Description
Our Muskoka Barn is a standard barn style structure. It offers a totally different look to your backyard garden or outdoor space. This model is very popular in Ontario cottage country and rural areas surrounding the Toronto, Hamilton, and Niagara regions. This is also a good choice for larger residential lots. Sitting taller than other models, the extra height allows loft space potential for additional outdoor storage. A loft is great for storing rarely used items and larger, longer sized items that interfere with floor space. A charming half-moon window is installed above the 48" or 60" double doors. This brings additional light into the barn while also enhancing the overall look.
Construction consists of 2×4 spruce wall studs with 24" centres. Flooring is 2×6 pressure treated floor joists, 16" on centre with 5/8" tongue and groove OSB flooring. The walls are built with LP SmartSide, an engineered wood product that is already primed in a neutral colour.
LP SmartSide siding products are treated with a proprietary process. This process consists of four components of protection adding strength. It helps the product withstand impacts, freeze/thaw cycle, high humidity, fungal decay, and termites.
Much of the trim is made from unprimed spruce that does require painting. Barn roof trusses are manufactured at our facility. We can have them Engineer Approved and stamped to be compliant with local building codes.
All our sheds are installed the same day. We use a block and gravel foundation if there is no existing concrete pad. Architectural shingles are available in either black or brown, and come with a 25-year manufacturer's warranty.
Many options to upgrade are available such as upgrading the floorboards from 5/8" OSB to 5/8" pressure treated plywood. This upgrade ensures longevity and greater protection from wear and tear due to excessive use. Other available options are slider windows complete with screens, plexiglass window inserts added to the solid doors, door ramps, workbenches, and tool racks. The list goes on.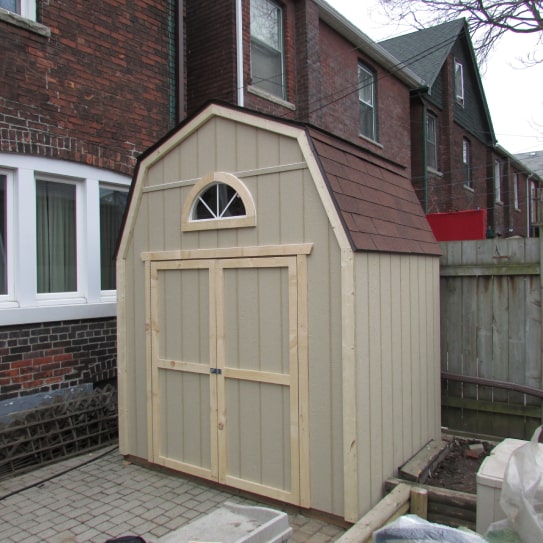 Our most popular sizes
Other sizes available.
Please select your Size.