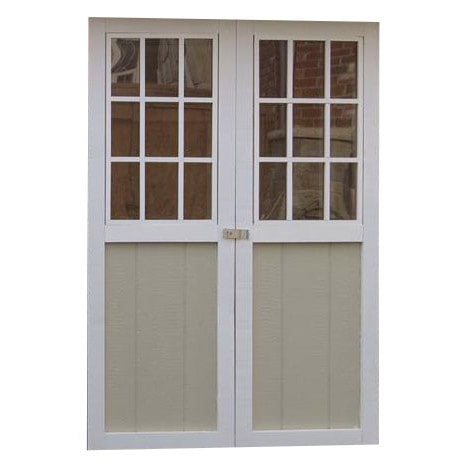 All shed doors are manufactured in our back shop and are made in 30" single, 36" single, 48" double or 60" double widths. They are made using Smart Side LP and framed in 2 3/4" pine lumber. A spruce 2×4 runs vertically on the inside of the door along the opening edge to add extra strength. Doors are installed using a stainless steel piano hinge that runs the full top to bottom length of the door and a hasp closure is included as a locking device on the outside.
All shed doors can be upgraded by adding windows to the upper half. These windows are plexiglass windows in order to withstand opening and closing without breaking. This upgrade has become one of our most popular upgrades and adds a terrific look to any shed.
All outside trim around the door will require painting.